I miss being with my family on Passover. It was a really big deal in my house where, in addition to recalling the Jews' exodus from Egypt, we regularly recalled the Seder in which the children accidentally got the real wine while the adults wondered why their wine, actually grape juice, had no kick. This year, while enjoying a holiday brunch at my in-laws' house, I began to wonder why some of the foods they served where different than those I'd grown up with. So I googled my question and this article is what I found. I thank the author, Rachel Landau.
Beyond Victoriana
This Monday is the first night of Pesach, or Passover. In the days when the Temple was standing, every Jew was required to make a pilgrimage to the Temple and make an offering there. Around the world and on six continents, Jews still follow the same structure for a Passover seder, as outlined in the Haggadah nearly two thousand years ago. But Jews are not monolithic: each community adds its own variations and customs to the mix.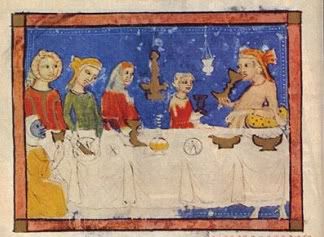 A picture from the Sarajevo Haggadah, one of the oldest Sephardic Haggadahs in the world. The Haggadah is the text that contains the order and the ritual traditions of the seder meal.
There are roughly three different strains of Jewish cultural movements, all of which have many different subgroups. After the destruction of the Second Temple, the Romans forcibly removed Jews from their homeland and scattered them throughout the Empire. Thus, three distinct…
View original post 744 more words